Steves Goods has been providing high-quality CBD products since 2016. The company was founded by Steven T. Schultheis, a Colorado man whose mission is to spread awareness of CBD's health benefits.
What makes this company special is the founder's resolve towards promoting CBD education and supporting local producers. The company invests a good part of its revenue in CBD research and development. This step, along with their partnership with local producers, ensures that customers get the most organic and innovative CBD products.
Continue reading to learn more about Steves Goods and their products.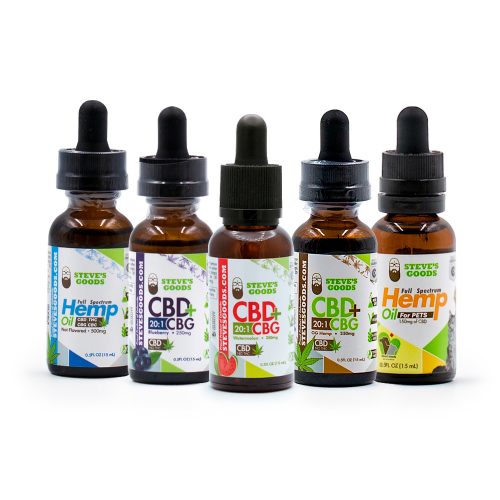 Quality of The Products
The company produces and sells locally sourced, organic, Colorado hemp products. They do not specialize in any one product.
Instead, they boast themselves as the perfect one-stop-shop for all your CBD shopping. From CBD hemp oil for humans to CBD oil for pets, the company lets you browse for anything you want.
For the best and purest CBD extracts, they use the CO2 extraction process. Their CBD isolate products are known to have 99% pure CBD extracts. They have also been able to achieve something that not many CBD producers have – extraction of CBG. CBG is found in less than 1% of hemp plants and therefore is a rare find.
Their CBD oil tinctures contain an assortment of CBG, CBN, CBC, and the main ingredient, CBD. The CBG extracts mixed with CBD are believed to have neuroprotective properties.
All the products sold by Steves Goods contain THC content lower than or equal to 0.3%. Their filtering process removes any noticeable THC amount. This is to maintain the safety, purity, and quality of their CBD products for optimal pleasure.
Every product is grain-free, soy-free, and dairy-free, offering the healthiest of options in delicious flavors.
Transparency and Standards
Steves Goods believe in adopting a chill approach to maintain an honest and open work environment. Every product and site page includes an FDA disclosure to warn customers about the usage of hemp products. They keep the customers informed of the legality of their products to maintain ethical standards above all else.
The company has been certified with the Certificate of Analysis or COA by a third-party lab. The COA is given for all their CBD products and raw materials. With this, they show their commitment to being transparent about the cannabinoid content customers will get.
You can search for the product you are planning to buy in their website COA directory. All the information is openly given out so that customers can inspect the product for themselves.
The company's determination to provide the best customer experience has earned them an A+ rating given by BBB. Better Business Bureau or BBB does not take customer interactions lightly. So, BBB's rating is a testament to the premium production standards of Steves Goods.

Cost and Type of Products
Due to the expensive CO2 extraction method used to infuse CBD products, even the CBD products are expensive. However, Steves Goods found a way around it to provide reasonably priced products.
Steves Goods has a wholesale web portal to help prosper your CBD business. The portal lets you get in touch with their wholesale team to discuss pricing and strategy.
The pricing will vary according to what product you buy. Here is a list of the company's offerings.
1. CBD Hemp Oil
Their first listing offers CBG and CBD hemp oil. The potency of the CBD oil ranges from 250-2000 mg in a 15ml or 30ml bottle. The smallest serving with 250 mg CBD content is fairly priced at $19.99.
You can try their 30ml bottle with 2000 mg content for stronger effects, priced at $124.99. The CBD hemp oil comes in the local Colorado flavors that have a bit of sweetness to make the experience more enjoyable.
2. CBD Concentrates
They have an amazing line of CBD concentrates, including CBD Shatter and Wax. These concentrates are vaporized to create a cloud of vapor with medicinal and therapeutic properties. CBD Wax is 85% CBD-CBG fusion, while CBD Shatter is a CBD isolate product with 99% CBD content.
The price for CBD Wax and Shatter will range somewhere between $19.99-$34.99, depending on whether you buy 1/2 or 1 gram. These blends come with an incredibly fruity, tropical flavor profile to tingle your senses.
3. CBD Edibles
Steves Goods now offers your favorite snacks as CBD-infused edibles. The edibles include CBD coffee, gummies, honey, capsules, and lollipops. Customers enjoy these for their long-lasting effect on your system.
Their single serving contains 25 mg CBD content except with gummy treats that have 5mg CBD per treat. The prices can range anywhere between $17.99-$59.99, depending on which edible you decide to buy
4. CBD Skincare and Beauty
The company also offers skincare and beauty products. They have a skincare line under the brand name, EndoBloom. Their research and development team have worked on a tried and tested formula to create CBD skin care products.
You can buy lotions, body scrubs, and cleansers infused with CBD for natural nourishment and relaxation. Each product has a pre-set CBD content of 150mg per container and is priced between $19.99-$24.99.
Their beauty line is called Enflower. The products are infused with high-grade hemp, as is always the case with every Steves Goods product. The highly raved beauty line rejuvenates you and reduces inflammation on your skin. At $17.50, Enflower products come under the affordable category.
5. CBD Cream
The company makes relief balms with full-spectrum CBD for all-round pain relief. Steves Goods only uses natural ingredients so that you can also restore the health of your skin. Their relief creams are vegan and gluten-free.
The relief balms come at affordable prices ranging from $22.99-$29.99. You can buy either 1 oz infused with 250 mg CBD or a 2 oz. jar with 500 mg CBD.
6. CBD For Pets
Steves Goods also caters to the CBD needs of your pets. They offer hemp bites and hemp oil for pets. Their pet oil tinctures are especially popular.
Although available only in one flavor, the oil has a salmon-oil foundation to give your pets a tasty CBD experience. Furthermore, the oil droppers have markings on them to make it easy for pet owners to give controlled servings.
The hemp bites price is $35 per pack with 350mg CBD. Hemp oil for pets is available in 30ml and 15ml bottles with CBD content of 75mg, 150mg, and 300mg. You can buy these for a price that will fall in the affordable range of $14.99-$34.99.
7. CBD Isolate
For the highest CBD potency, you can try their CBD isolate powders. These powders are made up of 99% pure CBD extracts.
The CBD extracts for these products undergo a proprietary process that filters out everything except CBD. The price can go as high as $5,500, depending on the size and the purity of the CBD powder.
Refund Policies and Customer Service
Steves Goods provide several ways to get in touch with their representatives. By opening up their communication system, they hope to prioritize their customers and resolve any issue.
You can either chat with them online or get in touch through email or call. The customer service team typically responds to your query within an hour or so.
Steves Goods value customer feedback. They encourage customers to share their experiences with the company's CBD products. The company's Hemping Hands Program does giveaways of their top-selling CBD products for a few loyal clients who share their testimonials.
Frequent buyers report about the easy-going and friendly personalities of the customer service team. Buyers also report that the team assures them of their reasonable refund policy. You can either buy another item of the same value or ask for a complete refund.
Manufacturing Process
Steves Goods specializes in the production of CBD products, coming straight to you from Colorado. The company has partnered with local farmers there and sources all of its extracts from Colorado industrial hemp. They source their extracts from farms that have proven their reliability and quality by practicing organic and sustainable farming techniques.
Farming practices are closely inspected to ensure that the products are made from only the best hemp crops. They do not add any artificial ingredients so as to not lower the benefits of their organically produced CBD products.
Final Thoughts
It is not easy to find a variety of high-quality CBD products when you are on a tight budget. Steves Goods was founded to solve these exact issues.
Steves Goods checks all the important parameters – affordability, quality, transparency, and positive customer journey. Their websites and product pages are user-friendly. In case you are a beginner, they provide hemp education to help you make the most of your CBD buy.
If you are looking to try CBD products, you can start with some popular CBD oils. You can begin by checking out this guide on the best CBD oils to narrow down your search.